For the sake of ensuring quality of products and business Stork is certified according to the norm of ISO 9001:2008 and has introduced HACCP system. The mentioned certificates ensure management control, continuous monitoring of production processes and product control. To us as a producer it means the acknowledgement of good business practice and to the final consumer a safety at choosing our product and the like.
HAACP
HACCP is a system of management where the safety of food is looked at through the analysis and control of biological, chemical and physical dangers (hazards) from incoming raw materials, handling, processing, distribution and consumption of final product. HACCP (Hazard Analysis and Critical Control Points) is a range or system of principals and rules, which provide preventing protection of food safety and health standards of the food which goes to the final users. It emerged with the aim to eliminate undesirable cases like: poisoning with health-related incorrect food, different diseases passed by food, consumption of health-related incorrect food, the presence of undesirable substances or foreign objects in food etc.
HACCP system represents a systematic approach to the management of food and drink safety and is based on the identification of danger, supervision, effective management and disabling of danger to food safety during production, packaging, transport and sales of drinks and food. It is made of a series of simple steps which need to be undertaken during the process of food production, including all processes which follow but precede consumption with the aim of providing a healthy and safe final product.
ISO 9001:2008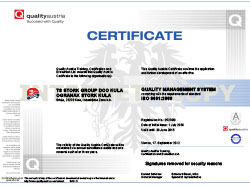 Exquisite experience and knowledge, top technology well-equipped offices and spaces for production as well as the quality of the product and production processes achieved by ISO 9001:2008 impress every visitor and partner. The most important factor of business success on a market is the quality of the product/service. Quality provides a loyal user on global level, establishes the brand and achieves better positioning in the world and national economic ranking systems.
With the appearance of organizations that work globally and with an increased international trade of goods and services, a need emerged on the market for the definition of a minimum range of requirements which guarantee a uniform quality of goods and services and prevent the market appearance of goods and services which do not satisfy the specifications of the users. As the need for requirements which define the quality at an international level was more obvious, an International Organisation for Standardisation (ISO) issued the standard ISO 9001 which defines the requirements of the System of Quality Management. These requirements are widely accepted in the business world, all-binding and applicable to all organizations, regardless of their business, country or the number of employees.